Dallas Wings Parking Map, Directions, and Prohibited Items
Please Note: For WNBA events, all guests are required to wear face coverings covering the mouth and nose before entering and while moving around the venue. Click Here to view additional COVID-19 policy information.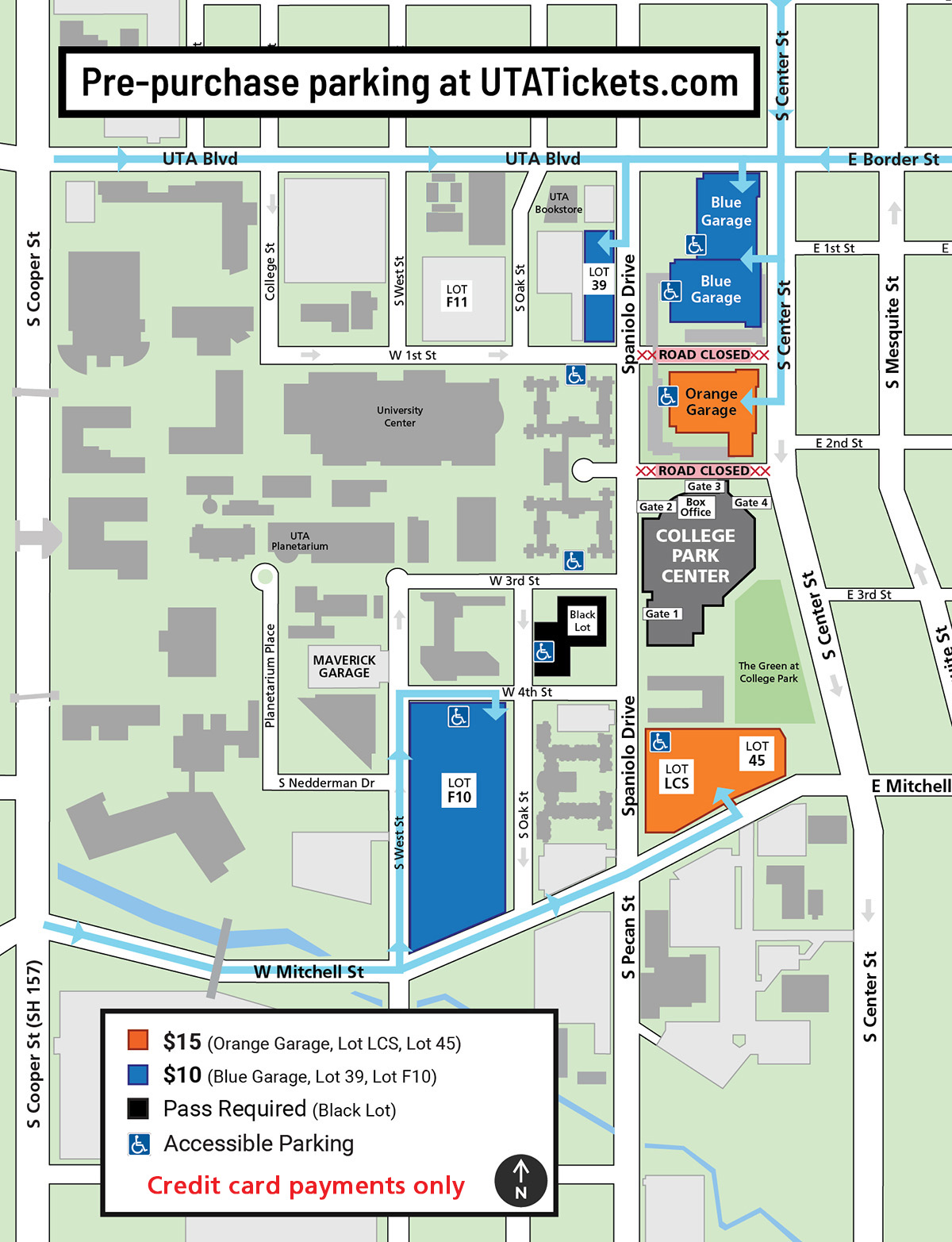 Directions
From I-20
Exit I-20 on to Cooper St. (FM 157) and go north. Proceed approximately three miles. Turn east (right) on to W. Mitchell St. Follow event parking signs.
From I-30
Exit I-30 on to S. Center St. and go south. Proceed approximately two miles. End: 600 S. Center St. (parking garages will be on your right).
From Highway 360
Exit Division St. and head west. Turn south (left) on to S. Collins St. Turn right on to E. Border St. Turn left on to S. Center St. End: 600 S. Center St. (parking garages will be on your right).
Prohibited Items
Large Banners and Flags: banners, signs or other items that are affixed to any pole or stick made of wood, metal, plastic or any other hard material and that is more than 18 inches in length.
Whistle, Horns, Foghorns/Airhorns, Plastic horns (vuvuzelas and didgeridoos)
Optical Illusions Item: pin wheels, umbrellas
Weapons: guns and knives
Aerosol Cans
Fireworks
Frisbees
Outside food or drink
Mace or Pepper Spray
Poles, Selfie-sticks, missile-like objects that can be thrown;
Strollers
Tripods
Bats or clubs
Beach balls, Basketballs
Illegal Substances
Camera ARE allowed, but no professional lens longer than 3 inches
Purse and Bag Policy
College Park Center is implementing a NO BAG policy to further help with a contactless entry to the arena. No bags means no bag checks, which in addition to reducing contact should make for a speedier entry! Exceptiions will be made for small clutches and medically necessary items and small diaper bags as noted below. CLICK HERE to see additional info on COVID-19 policies.
With a goal to enhance public safety and the fan experience, a no bag policy is in full effect for all events at College Park Center. Metal detectors may be used for some events. 
Small Clutches and Medically Necessary Items: Including small diaper bags (with accompanying infant/child) are allowed after proper inspection at a gate designated for this purpose.