About the Center
College Park Center, which opened in February of 2012, represents a dream come true for a generation of alumni, faculty, staff, and community members. And for the next generation of students, it offers a vision of great things to come. Located deep in the heart of downtown Arlington, its location was strategically chosen to help lure both the Arlington community and the nearly 33,000 UT Arlington college students to the revitalized downtown area.
College Park Center is home to the WNBA Dallas Wings and the University's men's and women's basketball and volleyball teams, and to numerous high-profile events and entertainment, conferences, and community activities.
As part of its commitment to academic excellence, the University has devoted significant space to an academic support study center with a study hall, computer lab, group study room, and areas for academic advising.
College Park Center is located in downtown Arlington in the College Park District, located to the east of the main UT Arlington campus and spanning more than 20 acres. The Center is surrounded by a wide variety of retail stores and restaurants.
Built to a Higher Standard
Designed by Dallas, Texas architects, HKS, Inc., College Park Center is expected to meet LEED (Leadership in Energy and Environmental Design) Gold standards, incorporating many energy-efficient features including low-emittance glazed windows, a highly reflective roof that reduces the solar load on the building, and a low-use water system. The building incorporates regional materials and includes native landscaping.
The exterior mixes brick and stone exteriors with windows that stretch nearly the full height of the 50-foot building. The building is oriented to allow natural light to flow onto the concourses.
College Park Center Facts
Constructed: 2012
Cost: $78 million facility
Size: 218,000 square feet
Seating: 6,750 (center-stage concert); 7,000 (traditional court-based athletics events)
Arena Layout Maps
Main Concourse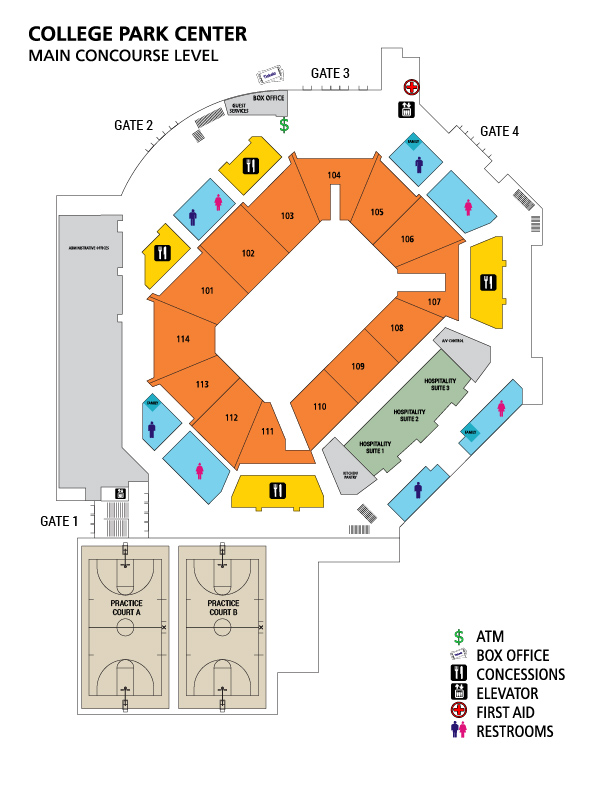 Main Concourse End Stage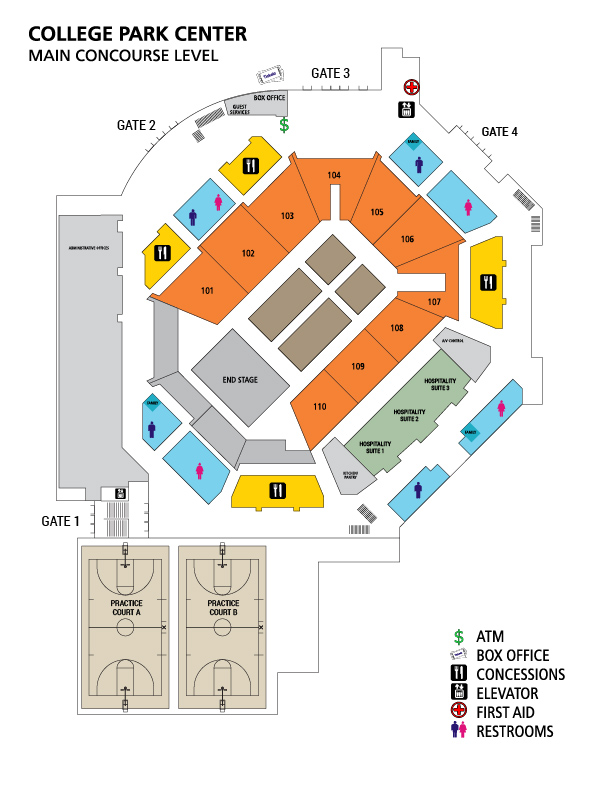 Upper Concourse