Food and Drink

Concessions
College Park Center features a wide range of dinner, snack, and beverage items. The concession stands and kiosks, located on the main concourse offer a wide assortment of fan favorites like barbecue, Tex-Mex, hot dogs, nachos, pizza, popcorn, soda, and beer (for some events). Cash or credit cards can be used at the permanent concessions locations and cash only at the kiosks.
Hours of operation for concession sales within the Center will vary depending on the schedule of events. All concessions are provided by an exclusive in-house food vendor.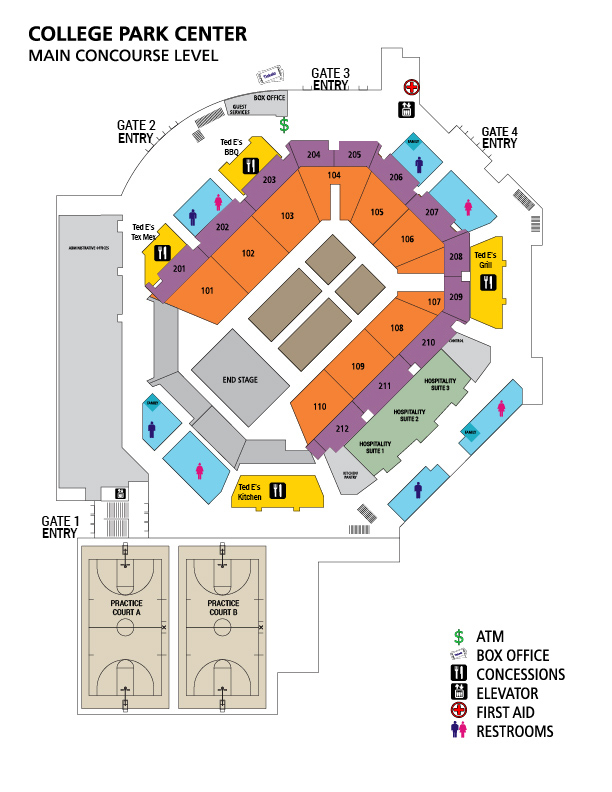 Outside Food and Drinks
Outside food or beverage are not allowed in College Park Center. Guests may dispose of or return to their vehicles any unauthorized items prior to entering into the facility. Items will not be stored, secured, or kept for return by College Park Center.
For special dietary needs, infant needs, and medical concerns, please contact Guest Services on the North concourse of the arena, next to the main entrance or call 817-272-5584. Policies may vary for concerts and special events.
Alcoholic Beverages
The College Park Center endorses accountable consumption of alcoholic beverages. Alcohol sales will vary depending on the type of event. Our alcohol policies are listed below:
Texas law states that a person must be 21 years of age to purchase and/or consume alcoholic beverages.
Every guest will be asked to present a valid driver's license at the time of purchase. We reserve the right to refuse the sale of alcohol at our discretion.
Within the arena, the sale of beer is limited to two per customer, per purchase. Alcohol sales will vary depending on the type of event.
Any guest who is intoxicated/impaired entering College Park Center will be denied entry to the facility.
Any guests found intoxicated/impaired within College Park Center and causing a disturbance—determined by management—will be asked to leave the facility without refund and may be subject to further consequences, such as arrest.