Fort Worth Regional Science and Engineering Fair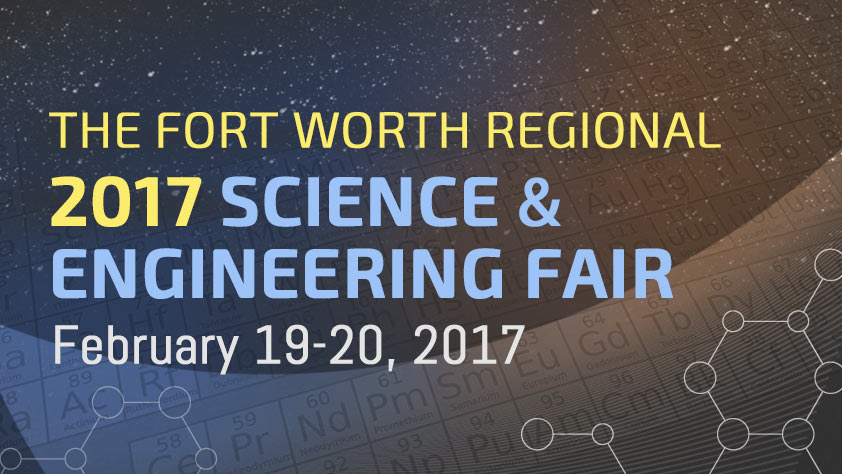 Fort Worth Regional Science and Engineering Fair
Feb 16, 2018, 12:00 noon
The Fort Worth Regional Science and Engineering Fair is the oldest continually operating regional fair of its kind in the state of Texas. It's also the biggest in the region. Students from 10 counties (Cooke, Denton, Erath, Hood, Johnson, Palo Pinto, Parker, Somervell, Tarrant, and Wise) participate in an effort to advance the study of science, mathematics, and engineering statewide. For more information, go to: http://fwrsef.org/info.php
FWRSEF Schedule:
February 16

12:00 PM to 6:00 PM Project setup (all grades)
February 17

9:00 AM - Welcome ceremony with Lockheed Martin presentation
9:30 AM to 10:00 AM - Closed-Door Judging
9:30 AM to 11:30 AM - Project Presentation
Division I students (grades 9–12) demonstrate their projects to the judges (mandatory).
Division II students (grades 6–8) demonstrate their projects to the judges (optional).

11:30 AM to 1:00 PM - Lunch (sponsored by the Miles Foundation) at the Cafe Connection on campus

1:00 PM to 2:50 PM - Student Activities

Science fair participants may participate in activities provided by UTA College of Science, College of Engineering and FWRSEF sponsors. Prior registration required! Contact fair director for detailed information.

3:00 PM to 7:00 PM - Public project viewing

7:00 PM to 8:30 PM - Awards Ceremony

8:30 PM to 9:00 PM - Public viewing and teardown

9:00 PM - Exhibit hall closes. All projects must be removed by contestants or trusted parties by this time. Custodial services will dispose of unattended items.