COVID-19 Policies
Welcome back to College Park Center!
As you're probably expecting, events are going to look a little different than normal, but with your help we can still provide the same amazing experiences you're used to. You may be wondering how our venue policies have changed for upcoming events. We are doing everything we can to ensure that when we reopen, we do so in a way that keeps our guests and venue staff as safe as possible. Please help us keep our events safe by following these new policies when you're at CPC:
Please Note: The University of Texas at Arlington requires all guests to wear face coverings and socially distance while on campus or in campus buildings.

 

Go to

 

uta.edu/coronavirus

 

for more information.
SICK? STAY HOME

Please do a self-assessment before coming to an event, and stay home if you are not feeling well. We have temporarily relaxed our ticket refund policy to allow for those who are unable to attend due to illness. You can find resources on doing a self-assessment HERE.

If you feel unwell before arriving at the venue, we will refund your purchase in full in the method used to pay for your tickets. Please contact the Box Office at 817-272-9595 or boxoffice@uta.edu at least one hour before the event is scheduled to begin. Please be sure to have your order ID number handy.

FACE COVERINGS

All guests are required to wear face coverings covering the mouth and nose before entering and while moving around the venue. Face coverings may be removed for consuming food and beverage while in your assigned seats. Please visit The University of Texas at Arlington's face covering protocol page for specific information on acceptable face covering options. 

SOCIAL DISTANCING

Please keep at least 6 feet of distance from other guests at all times. This includes entry and exit, moving around the arena and standing in lines.

ONE-WAY DIRECTIONS

For some events, one-way directions will be in place around the arena. Following these directions will help everyone keep that 6 feet of distance we mentioned when you're moving about the arena and when going up and down stairs.

ALL SEATS ARE RESERVED

In order to ensure proper distancing in the seating areas, all events will have reserved seating (no general admission.) Tickets will be sold only in small groups and individual seats. Please sit only in the seat printed on your ticket.

GO CASHLESS

Be prepared to pay by credit/debit card for concessions and merchandise. Pay online in advance for tickets and parking. This helps us reduce the spread of germs from passing money back and forth.

MOBILE TICKETING

Use the AXS app (formerly Flash Seats) instead of paper or eTickets to enter the arena. Simply holding your phone up for the gate attendant to scan will help assist in a contactless entry. Learn more about the AXS app and mobile ticketing HERE.

LEAVE THE BAGS AT HOME

College Park Center has implemented a NO BAG policy to further help with a contactless entry to the arena. No bags means no bag checks, which in addition to reducing contact should make for a speedier entry! Exceptions will be made for medical necessary items and small diaper bags. See full policy details HERE.
Additional Steps We're Taking
In addition to the above-mentioned policies, we have put into place additional measures to enhance cleanliness and safety in the venue. We follow the health and safety guidelines published by The University of Texas at Arlington which can be found here: uta.edu/coronavirus. We can all work together to stop the spread, and get back to having some amazing events! Here are some steps we're taking:
SANITATION

Increased the frequency and scope of our regular cleaning before, during and after events.

Treatment of high-touch surfaces with GermBlast and other electrostatic spraying.

Added touchless hand sanitizer stations for public and employee use at entries, restrooms and other key areas of the venue.

EMPLOYEE HEALTH AND SAFETY

All part-time, full-time, and contracted third-party staff members will undergo a health screening/temperature check before entering the venue.

All public-facing staff members are required to wear protective face coverings and gloves, as necessitated by current guidelines and best practice policies. Employees will be required to wash hands and change gloves at regular intervals during events.

All staff working in food service/prep areas shall be required to wear protective face coverings and gloves, as necessitated by current guidelines.
GBAC STAR Facility Accreditation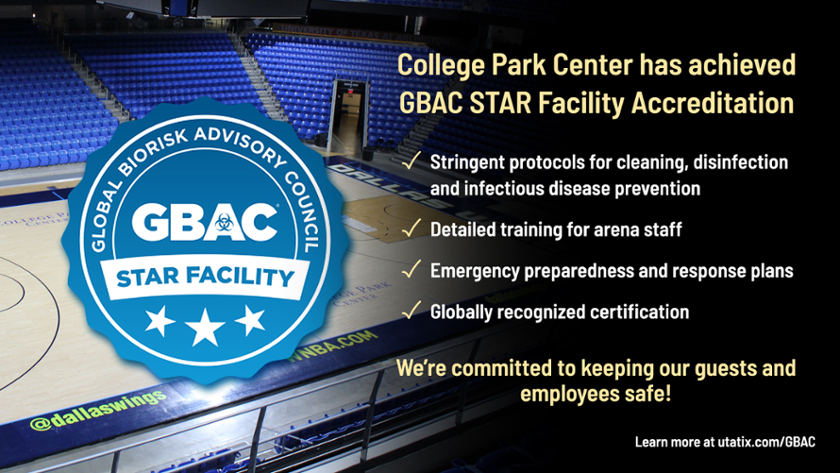 We are excited to announce that College Park Center has achieved GBAC STAR™ facility accreditation from the Global Biorisk Advisory Council (GBAC), a Division of ISSA - The Worldwide Cleaning Industry Association. The accreditation shows College Park Center's commitment to keep guests and employees safe with strict cleaning, disinfection and infectious disease prevention measures in our arena. CLICK HERE to learn more about the accreditation and what we are doing to help keep events safe!
QUESTIONS?
Please reach out with any questions or concerns. We're here to help! Contact us